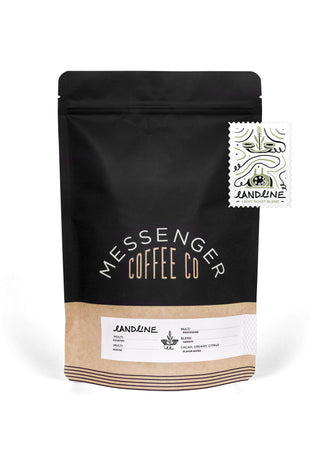 blend
landline blend
Captured in this blend is a sense of connection. Often the voice of a coffee is lost in a blend, this one is different. Our Landline blend was intentionally roasted to a light degree, preserving the taste and quality of each coffee.  
The final product.... pure beauty. The cohesiveness of this blend allows the flavors of each origin to meld together, creating a uniquely delicious blend, allowing all the producer's messages to be heard through each cup. 
Sweet chocolate notes of cacao and pleasant citrus acidity shine, rounded out with a creamy body and lingering finish.
Your Landline is ringing, pick up a bag today!  
cacao, creamy, citrus
---
Flavor Notes
each coffee, while still allowing each coffee's flavor to meld with the other cohesively and deliciously. As the coffee is sipped, each farmer's, picker's, miller's, roaster's, and brewer's work will speak through the cup. Their message will be heard.
bright/floral
earth/cocoa